Transportation and Parking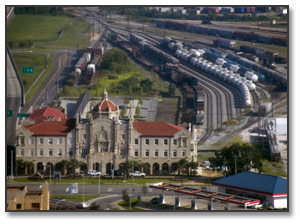 All roads (and rail lines and shipping lanes) lead to Downtown Mobile! We are served by Interstates 65, 10 and 165, U.S. Highways 90, 98, 43 and 45, two airports, seven rail carriers and the Port of Alabama. The Wave Transit public transportation system is based in Downtown Mobile. Service runs regularly from the GM&O transportation center to all points in Mobile and several surrounding communities. Additionally, downtown is served by the LoDa moda!, a free trolley service available Monday - Saturday from 7 a.m. until 6 p.m. moda! travels through Downtown's primary shopping and dining district and stops regularly at most accommodations and attractions.
Parking
Parking in Downtown Mobile is convenient and generally affordable. On-street parking is available for many of downtown's businesses and attractions. On certain streets, parking is free, with a two hour limit. The remaining metered parking is $1.00/hour. Additionally the city is served by several public parking decks and numerous privately operated surface lots. Rates vary. If you're a frequent visitor to downtown you may want the convenience of a Cash Key, a pre-paid refillable key that inserts directly into the parking meters. The Cash Keys are available for $30.00 from Central Parking at 300 Dauphin Street.