Wednesday, Jul. 12, 2017
Mobile's Mid-century Modern Masterpieces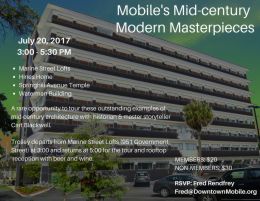 Not all of Mobile's historic architecture is reminiscent of Gone With the Wind. Mobile has several mid-century modern gems. Most architectural trend watchers believe mid-century modern was a US interpretation of the International and Bauhaus movements that was imported to the US due to flight from Nazi Germany.

The Downtown Mobile Alliance in conjunction with Cart Blackwell, assistant director of the Mobile Historic Development Commission is hosting a Mid-century modern tour to celebrate the genre in Mobile. 

For more information see our flyer below.


mobiles_midcentury_modern_masterpieces.pdf