Doing Business in Mobile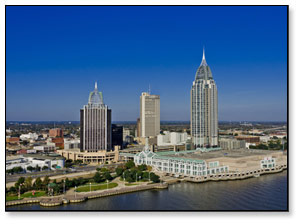 Mobile is no stranger to international business publications - often making the Top 10 Lists of business-friendly cities. In fact, Entrepreneur magazine recently named Mobile the best midsize city in the United States for starting and growing a business. And all this was before Airbus broke ground on a $600 million assembly plant at Brookley Field near Downtown Mobile. With this facility, Mobile becomes one of only a handful of cities in the world capable of assembling large commercial and military aircraft.
The decision of Airbus and hundreds of other businesses to locate in the Port City reflects a community focused on the needs of businesses both large and small. The Downtown Mobile Alliance is working to make Downtown an even more attractive place to locate a new or existing business by utilizing research; marketing; advocacy; sanitation, safety and beautification services; and by serving as a downtown development ombudsman.
Downtown has long been the financial, logistical and governmental hub of the region. Now, as we have experienced additional investment, more businesses are opening in downtown, and more residents are choosing to make their homes in downtown. As a result the opportunities for professional, retail and neighborhood businesses abound.
For more information regarding business and development in downtown Mobile,
call 251-434-8498.