Mobile Public Space Action Plan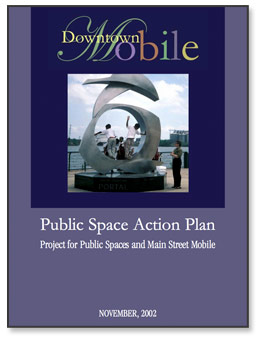 Now entering its fourth century, Mobile has an opportunity to become one of the most livable cities in the country. Experts in the fields of urban planning and walkability frequently comment on downtown's "good bones." With its intact grid of small scale historic streets, strategically located public squares, and working waterfront, it has the necessary ingredients to make a vibrant environment in which to live, work and visit. Imagine coming into Mobile on a beautiful tree-lined street, entering a busy downtown of restored historic buildings, thriving shops, sidewalk cafés and gardens, and staying after work or for a few days.
This is our vision for Downtown Mobile, developed initially by the Public Space Action Plan that was created and adopted in 2002. More than a decade later, we are seeing the vision being realized, piece by piece. And recent planning efforts are continuing to direct our redevelopment toward both preservation and innovation.
View the Mobile Public Space Action Plan (.pdf format)